Back to all posts
Posted on
Choir at SWES offered to Grades 4-6!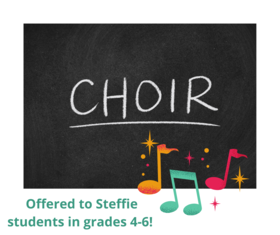 We are so excited to be able to offer choir to our students again!
Any student from Grades 4-6 who loves to sing, practice, perform, and will commit to regular practices is welcome to join the Steffie choir with Ms. Anderson!
Practices are held from 2:30-3:00 on day 5 or day 6, depending on which grade your child is in. There will be opportunities for the choir to perform during assemblies at the school as well as certain events outside the school throughout the year.
Students will have already brought home an information sheet if they attended the meeting with        Ms. Anderson!
Please contact the office if you need another information package.