Back to all posts
Posted on
French Immersion Information Night for Kinder and Grade One Aged Students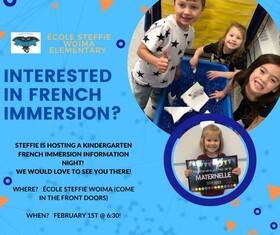 Did you know that students can enter French Immersion in Kinder or Grade One? 
You may have questions and apprehensions about placing your child in French Immersion. Most of you do not speak French yourselves and consider this to be a cause for concern. The French Immersion Program is designed for English speaking children. The program is built around the idea that the students we are reaching out to have no previous experience with French. Your children will learn French through a "gentle approach" where we gradually introduce them to the language through play, song, rhyme and stories. You may even find yourself learning right along with your child! We invite you to attend our French Immersion Information night where you can tour the classroom, speak to Administration and classroom teachers!
                                                                 We can't wait to meet you!