Back to all posts
Posted on
Marathon and Sports Day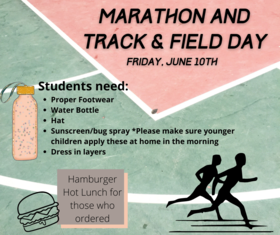 Marathon Details:
The Marathon will start at approximately 9:15 a.m. and the students will begin in waves by grade level. A wave of students will depart every 10-15 minutes beginning with the runners and then followed by the kindergarten classes. We are excited to invite parents back for the marathon. If you wish to walk with your child/children, please be at the school by 9:15 a.m. ready to go. We will be back at the school at approximately 12 PM to hand out prizes and the school will be delivering the BBQ fundraiser Hot Lunch.
Sports Day Details:
Our grades 4-6 students will be participating in a track and field "sports day" on Friday after our SWES Marathon.  The events start at 12:40 on the east side of our playground and will run until 2:55.  The K-3 Students will be on the west side of the playground.  
Feel free to come and watch your child participate in the events!  If you are unsure where to find your child, please find one of the staff members and they should be able to help you out! Be sure your child wears: proper footwear, proper clothing for running, jumping, and throwing, a hat, and please have them bring a water bottle with their first and last name on it.  Hope to see you there!