Back to all posts
Posted on
Scholastic Book Fair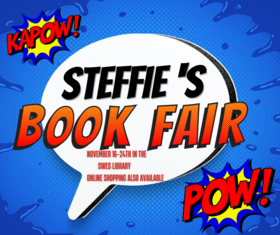 The Fall Scholastic Book Fair is Wednesday, November 16th to Thursday, November 24th!
Every class will have at least one opportunity to shop during the school day. There will be no before school or recess shopping times. *Your child's classroom teacher will have class shopping details.
After school shopping dates will be November 23rd and November 24th, to coincide with parent-teacher interviews.
The 24th will be a shopping day opened up to parents during the day.
FYI - There will be no library checkouts or check-ins for the duration of the book fair.
Online shopping opens up on Wednesday, November 16th.
https://virtualbookfairs.scholastic.ca/pages/5171722
Happy Shopping!